Fashion & Sustainability: VIN+OMI X Savoy
London is home to some of the world's most renowned fashion designers. Vivienne Westwood, Jimmy Choo and Manolo Blahnik (to name a few) all have ground roots in the UK and have helped shape the fashion world to what it is today. To celebrate the array of fashion icons in London, the city host's some of the most famous fashion events including the British Fashion Awards and of course, London Fashion Week.
THE SAVOY & LONDON FASHION WEEK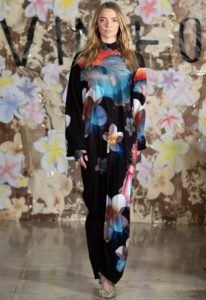 Each year, British designers – both old and new – curate show stopping collections and have the opportunity to debut them on catwalks in exclusive locations all over London. Many designers' collections give nod to pop culture or world issues – most recently Viktor & Rolf's Paris Haute Couture show titled 'Fashion Statements' captured the world's attention by placing stock phrases across their ball gowns, which asked the question: what does your fashion translate about you? Moreover, we have seen many designers take on a more sustainable angle to their collections like Stella McCartney. However, it is VIN + OMI that has taken the world by storm with their 100% sustainable approach.
With the home of London Fashion Week being 180 Strand, it makes The Savoy the perfect location for all things fashion during these buzzing 4 days in February and September.
VIN+OMI X SAVOY
This year, The Savoy has become the official hotel partner for VIN + OMI, and has announced a series of collaborative initiatives that lead into the forthcoming years. As a leading luxury hotel placing sustainability efforts at our forefront, this partnership with VIN + OMI as the world's first 100% sustainable brand elevates our efforts while remaining quintessentially British.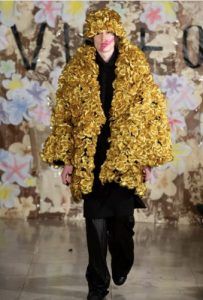 Omi – one of the two lead designers – came to The Savoy earlier this year and expressed his love for the hotel, and talked about the synergy between the two brands. It's safe to say that when that one hour period concluded, we knew this was going to be the start of something special.
A little background on VIN + OMI: they are international award winning fashion designers and environmental consultants who are recognized for their work in fashion innovation, research and their sustainable approach to designs and textiles, making VIN + OMI one of the leading pioneering eco fashion brands today. VIN + OMI produces ready to wear collections as well as limited edition releases throughout the year. Boasting a distinct style with mixes of strong prints, bold silhouettes and textures, their innovative and contemporary approach often gives nod to music and pop culture. Their pieces have been worn by the likes of Kate Moss, Lady Gaga, Beyoncé and Michelle Obama, and soon to be members of The Savoy team.
You read that right! VIN + OMI are in the midst of creating bespoke uniforms for our Doormen which will be debuted in the Spring of 2020. However, in the waiting period for these, they have also designed a limited number of bespoke scarves that will be available for sale in our Savoy Tea shop as of September 17th. This launch will coincide with the SS 2020 catwalk show that will be held in The Savoy's iconic Lancaster Ballroom. VIN + OMI will join the likes of Christian Dior, who made his British debut hosting his runway show in the Ballroom in 1950, and continue to lead and revolutionize the fashion industry today.
---
We are so excited to see this long term partnership take off. Stay tuned for all things VIN+OMI X Savoy in early 2020.