Above and Beyond - Sam Beer, Savoy Carpenter
Our team strive to go above and beyond every day to create special and memorable moments for our guests. Each month we'll introduce you to one of our colleagues so that they can share their Savoy Stories.
---
Australian-born Sam Beer is our hugely talented carpenter here at The Savoy and the man behind this year's Christmas showpiece. Around three months ago hotel manager, Ian Kidd, and head florist, Belinda Bowles, put forward their idea of a funfair inspired Christmas at The Savoy and challenged Sam with building a 15ft helter skelter to stand in the Front Hall (not just any old helter skelter though… a festive helter skelter).
Having never seen a helter skelter before, Sam got to work, researching pictures and; 'making it up as I went along'. The build itself took him around 25 days in total, including the intricate (and festive) paintwork and was no easy feat as he had to construct it in several parts, keeping in mind that he would eventually have to get it through the front door of The Savoy for final display. What's more, the project was a closely guarded secret so Sam had to work behind closed doors and keep schtum until the reveal to guests and colleagues on Sunday 25 November.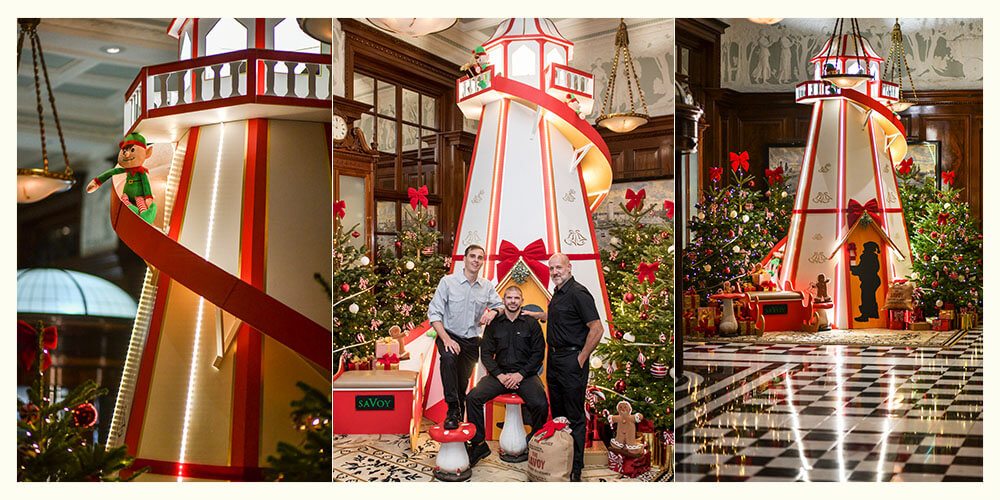 Sam says it's been one of the most fun projects he's taken on at The Savoy – other tasks have seen him create an ice-cream trolley for our in-room dining offering, build portable bars to showcase our world-class cocktails at events, and oversee the restoration of the 170-year old carving trolleys used to serve the roast beef in Simpson's in the Strand. But this particular build has captured his imagination and he's already thinking about what he can make for next Christmas. 'We can't go back to basics now', says Sam. 'This really was a project of love. I was so proud to be making something that would be on display to everyone right in the Front Hall as the centrepiece of our Christmas decorations.'
Sam lives in Dalston with his wife, Olivia, a lawyer, and his ten month old daughter, who he's excited to bring into The Savoy to take a look at Daddy's handy work. He grew up in Gunnedah, New South Wales and, before turning his carpentry skills into a career,  was a water-ski instructor and a Kruger National Park ranger.
Sam will be spending Christmas in Suffolk with the in-laws, and when asked what he most likes about the festive season… . 'A roaring fire. In Australia at this time of year, we'd be around a pool playing cricket, but I love to sit back in front of a fire. And London is so Christmassy, I love it!'