Meet the Festive Dream Team
If you've visited The Savoy this festive season, you've probably noticed that our Front Hall, Upper Thames and Thames Foyer are all looking a bit different! This year The Savoy has been transformed into an enchanted world, a place for awe, dreams, sparkle and wonder to create Reverie: A Savoy Christmas.
Located in Upper Thames, one of the main installations in the hotel is a gorgeous mirrored moon-shaped boat. This spectacular build was hand-crafted in-house by a very talented festive duo, Carpenter, Sam Beer and Florist, Belinda Bowles. 2021 marks their fourth year creating beautiful festive installations at The Savoy, so we wanted to tell you a bit more about this dream team!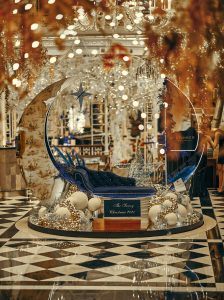 Meet Sam Beer & Belinda Bowles
How long have you worked at The Savoy for and what was your journey getting here?
Sam: I've worked at The Savoy for four and half years and it's been quite the journey to get here! In my past-life I have worked as a ranger and an anti-poacher in South Africa, a water-ski instructor in the US, a cotton-chipper and an orange-picker in Australia, and in 2013 I qualified as a carpenter. When I first moved to London, I built luxury tree houses for kids!
Belinda: I joined The Savoy when it reopened after the refurbishment in 2010, 11 years ago!
I became a florist when I was 14. The idea of office work didn't appeal to me so my mum encouraged me to do floristry. I always imagined I would work locally, but at 17 I began working at Harrods on Saturdays. It was really daunting working for such a well-known establishment, but it was this experience that gave me the confidence to work in luxury hospitality. And the rest is history!
What do you do at The Savoy? Tell us a little bit about your job.
Sam: I am the carpenter for The Savoy and my job is to create bespoke items and builds for different departments, specific projects and for guests.
During my time here, I've created tons of different things, including book carriers for our children's amenities, a post-box, a human-sized cake for the hotel's 130th anniversary, a heart-shaped seat for Valentine's Day, a human-sized doll's house that was then covered in chocolate and a wooden candle holder for a guest's anniversary celebration. My all-time favourite build was upcycling one of Simpson in the Strand's original trolleys into a cheese trolley; it's a piece that has so much history and I had the opportunity to give it a new life.
Belinda: As the Creative Floral Design Manager at The Savoy, I'm responsible for all flowers throughout a guest's journey; the displays in the Front Hall, flowers in the rooms and suites, weddings and private events, proposals and all occasion flowers including festive! My aim is to delight our guests and make sure that all the flowers fit into their surroundings; I ensure that they're seasonal, relevant to London, are different each time a guest returns and also try and include an element of surprise.
For the past four years, Sam and I have worked on every festive build, which has been a really fun challenge. We have created interactive builds that enhance the guest's experience; it's wonderful being able to see the builds through the eyes of others and really appreciate them. I'm really proud to work here with the team that we have; our people are so warm and engaging, and I wouldn't be here without them.
Can you tell us a bit more about the four festive builds you've been involved in and what the festive season means to you?
Sam: In 2018 we built a huge helter skelter for 'All the Fun of the Fair' and in 2019 we created a treehouse in Upper Thames in partnership with LEGO. In 2020 we created a wishing well where guests could place their festive wish as part of 'Festive Wishes from The Savoy'. And this year we've built a moon-shaped boat for Reverie: a Savoy Christmas. I love the festive builds because we use them as an opportunity to upcycle the materials from previous years.
For me, Christmas is about the kids; it's an opportunity to go back in time and recreate some of the best moments from my own childhood. I'm originally from Australia and Christmas was always a big family affair growing up; our whole family, around 30 of us, used to come together at my grandma's farm, eat and hang out. It's such a special memory and time in my life.
What does the festive season mean to you? And what other builds have you been involved in?
Belinda: The festive season at The Savoy is the best time of year at the hotel. We change the whole décor, completely transform the hotel and it's the busiest period. We love meeting the guests who join us at this special time of year and seeing the faces of the kids as they enter the hotel.
I've been involved in a number of key builds and installations, but I have a few favourites… For the royal wedding between Will and Kate, we transformed Thames Foyer, weaving wisteria in and out of the gazebo, creating a tower of flowers. This was a turning point in my career, and I had much more creative freedom from this point forwards. For the Queen's Jubilee, Savoy Court became a meadow of English wild flowers, while for Chelsea Flower Show we installed a mini gazebo in Upper Thames where we sold our Savoy rose, which had been created for the hotel's centenary. Other favourites include a human-size Easter egg, a rainbow made of flowers for Pride and a beautiful archway filled with flowers for Wimbledon.
So this year you and Belinda created the moon-shaped boat – how did you work collaboratively on it?
Sam: This year's theme, Reverie: a Savoy Christmas, was conceived by Meredith O'Shaughnessy who provided a brief to create a moon-shaped boat as the build in Upper Thames in collaboration with Nyetimber.
Belinda and I established the creative direction and from there, we built it layer by layer, starting with the base, getting the right shape for the moon, building it around the seat, and understanding how to make it bright like the moon.
With this kind of build, there are lots of things you need to factor in; how big it can be, how to incorporate the seat, how much weight it can hold, how to make the whole thing stable, how to get it to its final location, how to lift it and how to put it together on the night within the time-frame allocated. This kind of build is called a 'fat-pack' – a more bulky version of a flat-pack! When building it, you have to work backwards to figure out exactly how you put it together in situ on the night. You also have to visualise how it will work in the space, and practical things such as how to use and hide the electrics. You have to be quite flexible and make creative adjustments as you go.
Belinda: Sam and I work on the creative direction of the boat together, he creates all of the fundamental elements and builds it, I dress it and then we work together to visualise how to make it work in situ and how it might look from all angles. We have to improvise a lot and even once the build has been installed, you still need to make adjustments in the days following. We try to make sure it's as durable as possible, but of course we need to fix things as we go. A less glamorous but very important element of making these builds is ensuring that are operationally safe and abide by health and safety rules.
Since the moon boat was going to be placed in the heart of the hotel, where guests can see it throughout the day, we wanted to make sure it was beautiful, intriguing and eye-catching. To be best the representation of the moon, we wanted it to be reflective so it could shine from day to night. To do this, we included mirrored panels to build the moon itself, paint flecked with glitter, and additional reflective and shiny materials so it glistened. There are also lights around the boat, including on the sail branded with Nyetimber's logo.
And now that it's finished, what is your favourite thing about the moon-shaped boat?
Sam: Seeing people enjoying it! It's really rewarding seeing it finished and seeing families, kids, couples all interacting with it and taking photos. And of course, I'm proud to be able to see my work in a main space within The Savoy!
Belinda: My favourite thing about this build is that it was handmade by Sam – it's bespoke to The Savoy and you wouldn't be able to find it anywhere else. It's so wonderful seeing people's reactions to it, having fun with it and using it as a photo opportunity – apparently, it's on the front of many of our guest's Christmas cards this year!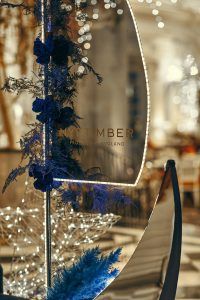 Photos by Will Stanley