Natura Bissé – Celebrating 40 Years of Skin-Perfecting Innovations
It is a challenge, in the world of beauty, to make a mark; to do something different in a landscape that constantly jostles with new launches and fleeting trends. Gaining a foothold on the slippery skincare ladder requires passion and perseverance – but to make a difference takes more than one person. It takes a family.
This year, Natura Bissé – the Barcelona-based cosmetics company founded by the inimitable Ricardo Fisas- celebrates its 40th anniversary.  What started life in 1979 as a small-batch line of clinician-only skincare has today grown to e a leader in the beauty market: synonymous with quality as well as innovation. However, cementing this reputation didn't happen overnight. The late Fisas would have attested that there is no simple recipe for success – it's a combination of hard work, integrity and entrepreneurial spirit, necessitating open communication, trusting one's values, and embracing the unknown.
Daring to be different ran through Fisas' veins.  When he launched the brand four decades ago, the former businessman was 50 years old and recently unemployed. Natura Bissé's ascent – from a small office set up in a Barcelona apartment to a global company with subsidiaries in the USA, UAE, UK and Mexico – can be attributed not only to his drive and determination, but to his vision of a unique, family-run culture.  In the early days, Fisas' wife, Gloria Verges, was the brand's Marketing Manager and his youngest daughter, Patricia, modelled for the very first Natura Bissé advertisements.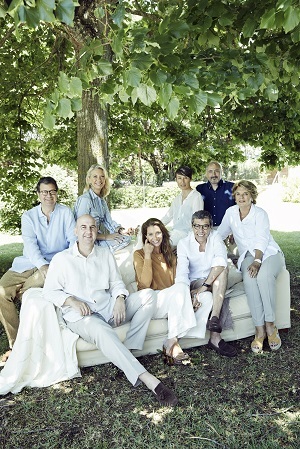 Today, the company is steered by the second generation: daughter Veronica is CEO and her husband Joaquin is the brand's Business Development Director.  Patricia is their Innovation and Product Development Director and her husband Jose Borrell is the Financial Director, while Fisas' son, Ricardo Fisas Jr, is Corporate Communication Director.  Already, a third generation (a total of 10 family members between the ages of 13 and 23) are preparing to join the ranks as shareholders, under the wing of expert advisors.  Each and every one of them stays true to a mantra of "shared projects, legacy, long-term and all in".  you could say its in their DNA.
Fisas' ethos – to sell cosmetic products that worked, and that did what they were supposed to do – is still the cornerstone of the brand. Since 1979, Natura Bisse's offering has grown from five highly effective facial creams to a vast catalogue of face-perfecting products, including the iconic Diamond Extreme – a restorative, ultra-rich moisturiser that repairs even the most compromised skin.  And their latest launches are set to be similarly ground-breaking.  The recently unveiled Diamond Cocoon Sheer Cream and Diamond Cocoon Sheer Eye restore strength to the dermis and intensely hydrate, while also shielding against pollution, free radicals and the damaging blue light (HEV) emitted by digital devices.  Both contain colour-adapting pigments, which blend seamlessly into the skin to diminish imperfections.  The result is a flowless complexion: healthy, radiant and superbly protected.
To say that these products deliver tangible results would be an understatement.  They are transformative.  But so too is their application.  For while you'll find Natura Bissé products behind the world's most prestigious doors – from Bergdorf Goodman to Harrods you will also discover them in our very own spa here at The Savoy.
After all, the power of touch is not to be underestimated – and what better way to truly experience these formulas than in the hands of a trained expert? Whether you're inhaling 99.9% pure filtered air in their world-first Pure Air Bubble (it debuted at the 2009 Oscars) or slipping into a virtual reality headset for a Mindful Touch facial that blends meditation and massage (Emma Stone is a fan of he ritual, which took two years to develop), Natura Bissé doesn't simply elevate the traditional spa experience, it transcends it.
Today, 40 years since its inception, the brand is stronger than ever; driven by a close-knit family who live and breathe Fisas' brave, quick to action motto: "Let's do it" . The legacy of this charismatic founder is rooted in the brand's cult creams, sensorial formulas and active ingredients. – but it also lives on in his vision: that a great company is only built with the help of a strong team. Who knows where future generations will propel this skincare supremo? Suffice to say, the future of our faces is in there very capable hands.
---
You can read the full article about Natura Bissé in Tatler's December issue 2019.